Happy birthday, Nigeria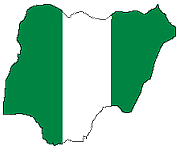 Every now and then my aggregator brings me an especially surreal juxtaposition. First this:

     from: Mr Muhamed Hassan
       to: clever@mailbucket.org
 reply-to: 
  subject: Good day
 
First=2C I must solicit your strictest
confidence in this transaction... 
[MailBucket.org]

So after one day, it's time to unsub the clever feed. That was no surprise. But then, eerily, here was the next item in my queue, from Kingsley Idehen:
I am a Nigerian reminiscing as my country turns 43 today. October the 1st is an emotional day for many Nigerians, especially those of us in the Diaspora. Our country remains a paradox as the excerpts below attest. [Kingsley Idehen's Blog]
Kingsley cites Ars Technica's achingly funny spoof:
DEAR SIR/MADAM:

I AM MR. DARL MCBRIDE CURRENTLY SERVING AS THE PRESIDENT AND CHIEF EXECUTIVE OFFICER OF THE SCO GROUP, FORMERLY KNOWN AS CALDERA SYSTEMS INTERNATIONAL, IN LINDON, UTAH, UNITED STATES OF AMERICA. I KNOW THIS LETTER MIGHT SURPRISE YOUR BECAUSE WE HAVE HAD NO PREVIOUS COMMUNICATIONS OR BUSINESS DEALINGS BEFORE NOW.

MY ASSOCIATES HAVE RECENTLY MADE CLAIM TO COMPUTER SOFTWARES WORTH AN ESTIMATED $1 BILLION U.S. DOLLARS. I AM WRITING TO YOU IN CONFIDENCE BECAUSE WE URGENTLY REQUIRE YOUR ASSISTANCE TO OBTAIN THESE FUNDS.
[Ars Technica: The Nigerian SCO Connection]
On the flip side, Kingsley reminds us that he's not the only notable Nigerian technical innovator. Being an XML geek, I am of course well aware of Dare Obasanjo and Uche Ogjubi. I'm embarrassed to say, though, that Philip Emeagwali's backstory was unknown to me.
Strange juxtapositions. But...happy birthday, Nigeria!
---
Former URL: http://weblog.infoworld.com/udell/2003/10/01.html#a817