FixYourOwnPrinter.com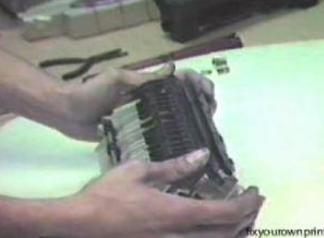 My decade-old LaserJet 4 recently developed a bad case of the dreaded "accordian paper jam" syndrome. It's been a workhorse. Maybe, I thought, I should just put it out to pasture. But I had a hunch that the process of getting it fixed would be interestingly different from the last time I had to do something like this. And sure enough, it was. I found several repair kits online, but zeroed in on FixYourOwnPrinter.com because their kit includes a video that illustrates the process.
Here's 45 seconds from my favorite scene1, which demonstrates the right way to remove the clip from the end of a roller. I, of course, did it the wrong way. "Be careful not to lose these e-clips, they're easy to pop off," the guy said, just as my e-clip took the leap of faith. That was the only mishap, though. The printer's fixed, and I've joined the ranks of FixYourOwnPrinter.com's satisfied customers.
The video isn't going to win any production awards. It's handheld, and not always in focus. But it was plenty good enough to walk me through a complicated procedure that couldn't have been communicated as effectively in any other way. And because it didn't need to be better than that, it was doable for some folks whose business is printer repair, not video production.
---
1 Courtesy of Blue Pacific's Turbine Video Encoder. I've been wanting to standardize on Flash as a universal no-hassle video playback format. Turbine, an encoder for Flash video, is a $39 product. And it offers a free version (which I've used here) that's unrestricted except for a subtle watermark. Looks like a nice solution.
---
Former URL: http://weblog.infoworld.com/udell/2004/06/10.html#a1020