Where was desktop search when we needed it?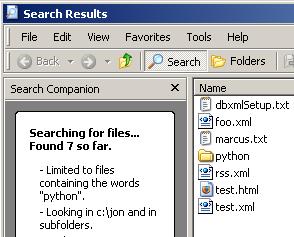 Desktop search engines are sprouting like weeds. Google's showed up in October, then Microsoft's in December, and now Yahoo's this month.

...

For lots of people I know, any one of these choices will produce a life-changing productivity boost. For me, though, that's no longer true. The Gmail experiment has become a lifestyle choice. I still maintain a local Outlook mail store, and it's indexed several ways, but I rarely need to search it. Similarly, most of the documents I create -- InfoWorld stories, Weblog postings -- are pushed to the cloud and are searchable there.

Few of you can or should live in the network cloud to the extent that I do. But if you refocus on the corporate intranet, cloud-based storage has compelling advantages. The first and most obvious one is the ability to access your stuff anywhere, anytime, from any client. A subtler point is that documents in the cloud are documents that other people can help you tag and find.

The gating factor for desktop search is metadata. Finding documents based on words they contain is a huge benefit, something we should all have been able to take for granted years ago. But the future isn't faster or prettier full-text search; it's more context and better relevance. And your personal hard drive isn't the garden where these flowers will grow.

Google's PageRank showed us that relevance is a collective judgment. Services such as del.icio.us, Flickr, and Furl are likewise showing us that metadata tagging wants to be a group effort. One of the ironies of desktop search may prove to be that, by the time it went mainstream, the personal hard drive was about to become an endangered species. [Full story at InfoWorld.com]
Today's screencast is a 90-second short film that demonstrates Simon Burns' astonishing finding that desktop search has been right under our noses for years -- built into Windows but then crippled by weird design choices. In the screencast you'll see how even when the Windows indexer is enabled, a search won't use it unless you prefix the search term with an exclamation point. You'll also see the ancient and obscure Windows indexing administration tool in use. It's bizarrely named ciadv.msc and tucked away in the system32 directory, but if you point a shortcut there you can bring it to life.
This week's column explains how these odd circumstances arose. Even though it's water under the bridge now, I can't help wondering how the desktop search market might be different today if something like this screencast had been widely available three or four years ago. Audio/visual narration of software behavior makes connections in our brains that don't happen when we just hear about software, or read about it, or see static screenshots.
Several folks commenting on my Wikipedia screencast have said things like: "I've tried to explain to people how Wikipedia works, now I can just point them to the screencast." And that was the real point of the exercise for me. We need a new medium in which to communicate about software. The fact that both my Wikipedia screencast and the vnc2swf page show up today at del.icio.us/popular/ -- the vnc2swf surge owing to Nat Friedman's Beagle demos -- tells me that my efforts to popularize screencasting are bearing fruit.
Coincidentally Beagle, the successor to Nat's Dashboard project, is yet another desktop searcher. The more the merrier. We should all expect to enjoy immediate search of local content; it's nuts that we've gotten this far without it; solutions are long overdue.
In the column I argue that our increasing reliance on network storage makes the need for desktop search less acute than it formerly was. I should add, though, that the core technology of desktop search -- that is, noticing and cataloging information events -- will only grow more relevant with time. Whether or not your personal information lives on your personal disk, and whether or not the index is built and searched locally, the reading and writing and editing and communication events occur on the client. Pervasive high-performance monitoring of that event stream will help us weave local storage and the cloud into a common information space.
---
Former URL: http://weblog.infoworld.com/udell/2005/01/25.html#a1157