The Screening Room #11: PowerSchool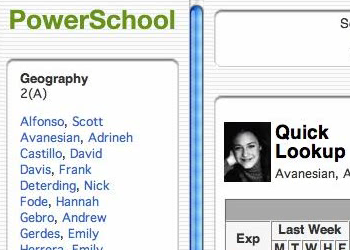 The November episode of The Screening Room features PowerSchool, Pearson School Systems' popular student information system (SIS). I'm joined by Pearson's Paul Smith and by Sharlene Karbowski, an IT administrator with the Westside school district in Omaha, Nebraska, where PowerSchool has been running since 2001.
If you're a teacher, student, or parent in a school system that uses PowerSchool, or another SIS, you already know how these systems work and why they're valuable. But if your school system hasn't yet deployed an SIS, this screencast will serve as a useful introduction to the genre.
By way of full disclosure, my own school system is in the process of deploying PowerSchool but has postponed a planned rollout of the portals that enable teachers, parents, and students to access the system by way of the web. So for me, this screencast was opportunity to explore both the risks and the benefits of opening up those portals.
---
Former URL: http://weblog.infoworld.com/udell/2006/11/30.html#a1569